QUANTIEN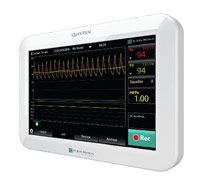 The wireless design of the QUANTIEN integrated FFR platform allows you to configure your cath lab environment exactly the way you like – without the clutter of cables.
Easy cath lab installation gives you full FFR integration without cabling through floor or ceiling – and without cath lab downtime.
With the wireless Wi-Box™ and PressureWire™ Aeris™, the QUANTIEN main unit can be placed as a built-in or mobile device anywhere in the cath lab, freeing up valuable table space and allowing control by either sterile- or nonsterile-dressed staff. PressureWire™ Certus™ can be used if QUANTIEN is mounted bedside or placed close by the cath lab table on a pole.
Full Connectivity
Quick and easy procedures and full case documentation with DICOM Worklist, DICOM Archive, local network and USB memory stick data export.
Ke stažení